Blackberry Z30 will be available soon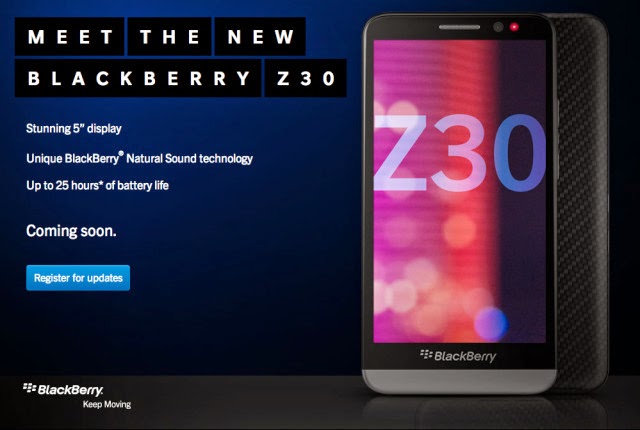 The Newest Edition to the BlackBerry 10 Line Up
The biggest, fastest and most advanced BlackBerry smartphone...
With a 5" display and the longest battery life on a BlackBerry® smartphone, the BlackBerry Z30 is designed to increase productivity and allow users to collaborate with ease.
New features include:
Preview messages: BBM™ now allows users to preview new messages as they arrive, even if they're in another app. They can then choose to dismiss, read or reply to the full message with a quick tap without leaving the app they're in.
Prioritising: BlackBerry® Priority Hub learns which people and conversations are important to you, helping users to prioritise messages.
Longer battery life: Users can experience up to 25 hours of mixed use* with a 2880 mAh battery (the largest battery ever built into a BlackBerry smartphone) and the battery enhancements released in BlackBerry® 10 OS version 10.2.
New antenna technology: The BlackBerry® Paratek Antenna dynamically tunes to give better reception in low signal areas, which means faster data transfers and fewer dropped calls.
5" Super AMOLED display: The large display makes everything clearer and more vivid which is powered by a 1.7 GHz processor with quadcore graphics making browsing web pages faster and more detailed.
Stereo audio and BlackBerry® Natural Sound: BlackBerry® Natural Sound is new technology exclusive to BlackBerry that lets you hear nuances and variations in tone, making conversations sound like you're in the same room whether you're using BBM™ Voice, BBM™ Video or simply making a call.